Laurie Hood – Founder
Laurie Hood is the visionary behind Alaqua Animal Refuge. She was born and raised in Louisiana and graduated from LSU with a degree in Marketing.
Hood has drawn on her business background to create a non-profit that functions for success. Her prior professional experience includes operating an international magazine in south Florida for eight years and serving as marketing director for the Gorlin Companies, a Destin, Fla.-based firm that launched medical and drug companies, including several that have become successful publicly traded ventures. In 2007 Laurie discovered that countless animals were being euthanized due to the lack of a no-kill shelter in Walton County; she couldn't reconcile this with her natural passion for animals, so she started Alaqua Animal Refuge.
Laurie is married and has two boys, ages 9 and 11. Her family is a big part of all activities at the refuge. When not knee deep in animals, they all enjoy paddle boarding, boating, horseback riding, and family time.
Jody Koch-Bailen – Operations Manager
Jody Koch-Bailen, a native of Western NY, came to the beautiful Emerald Coast in 2014 to retire with her husband, Gene. Her plans quickly changed once she visited Alaqua Animal Refuge. Jody began volunteering – even before she had furniture in her new home. After six months, Jody became the Volunteer Coordinator before moving into her current role as Operations Manager. Jody says that life has come full circle for her; the time that she spends at Alaqua brings back wonderful memories of growing up in a small farming community in NY. At the age of 16, she started spending her summers working with the local large animal vet, which has given her a vast knowledge of a variety of animals. Jody continued down the medical path when she obtained her Podology (Diabetic Foot Care) degree from the North American School of Podology in Toronto, Ontario.
Jody and her husband have four grown children, as well as two fur babies, Mylo and Shotty (an Alaqua Alum). She loves Alaqua and is very passionate about both the staff and all of the animals that are being given a second chance at life.
Dr. Amy Williams – Veterinarian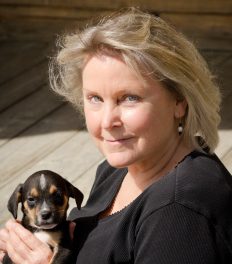 Dr. Williams was born in Birmingham, Alabama. She moved to the area in 2000, because she wanted to live in "paradise" near the beach. She has served as a Board Member for the Refuge and now serves as our veterinarian. Dr. Williams works hard to ensure the health and wellbeing of all the Refuge's animal residents, and she loves seeing the animals she has cared for so diligently go home to loving families.
Dr. Williams has a family of furry companions including four Alaqua Alumni. When she isn't caring for the animal residents, Dr. Williams enjoys hiking, gardening, fishing, beaching, and horse racing.
Dr. Jim Smith, DVM – Surgeon on Staff, Tuesday Mornings
Dr. Jim is a partner in a clinic in Kansas where he spends a couple days each month. Since relocating to SRB he has joined the 30A Vet Clinic and also works as a fill in at many area clinics. Laurie approached Dr. Jim to provide Alaqua with a 5th day of surgery each week, he agreed and has been a welcome addition ever since.
Reca Sexton – Veterinary Technician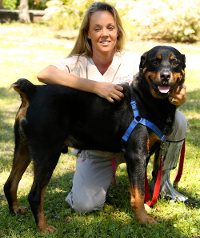 Reca is originally from Brewton, Alabama, but moved to our area as a child. She joined the team at Alaqua Animal Refuge in 2009, drawn by her love of animals. Reca has worked as both a Kennel Technician and a Veterinary Technician, and enjoys working hands-on with the animals. She says she enjoys the fast-paced constantly evolving environment at the Refuge – it makes the job fun!
When not working at Alaqua, Reca can be found with her husband and two sons. She has animals of all types at home and loves to stay active, enjoying riding horses and bikes and Yolo boarding.
Fran Riehle – Veterinary Technician
Fran wasn't born in our area but has lived here for more than 20 years. Fran originally came to Alaqua in response to a job posting, and decided that this was the perfect place for her. She works hard to make sure that all the animal residents are healthy and happy. Her favorite part of her job is assisting the veterinarian, but she also loves assisting potential adopters and showing off our adorable puppies.
Fran is married and describes her husband as the most patient man in the world. She lives on a farm with horses, dogs, and cows, and says that her pets are her children. Fran loves spending as much time with her horses as possible when she isn't working at the Refuge, as well as puttering in her flower beds.
William Berdami – Kennel Technician
Originally from NOLA, William owned and operated Berd's Eye Optical in Meridian MS for 30 years. He semi-retired to this area with aspirations of becoming a beach bum. William found Alaqua when he came across a stray dog that he wanted to help. While making arrangements to take the pup, William's sense of humor instantly won us over and we talked him into becoming a volunteer. He made fast friends at Alaqua and then approached me asking for an "outside" job at the refuge, his timing was perfect and our lucky streak continues. William is a true ambassador for Alaqua, he greets everyone that crosses his path, he knows all of our volunteers, he brings joy to his job and he truly loves each and every animal on the property.
Candy Price – Kennel Technician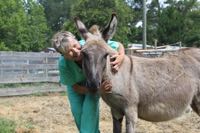 For as long as I can remember, if there was an animal anywhere nearby, so was I. I wanted to watch, listen to, feed, nurse or adopt it. I had dogs and my horse through high school but by the time i left college, I was ready to surround myself with animals again. After a few years grooming and exercising racehorses, I started work in the first of several amazing veterinary clinics as a vet tech. I had been so blessed to have been able to work with large and small animals as well as exotics for many years before my husband Thomas and I, along with our Great Danes, parrots, and horses left NE Ohio in 2007 for warmer climates and possible retirement. Since my "retirement," I have forced myself on a marine park, a large cat sanctuary, and a wolf preserve before calling Alaqua one day to see if there was anything I could help out with here. Like I said, if there was an animal nearby…
Since moving to the Panama City area, very few things have changed in my life. I no longer complain about winters. I also always have snorkeling gear and a kayak within reach. Oh, and I adopted a small dog (Shelby is a petite 85 lbs.) and a Donkey. My husband didn't even know we needed a donkey.
Kelby Schweickert – Lead Adoptions Counselor
Kelby was born and raised in Destin, FL and lives with her fiancé and two rescued, four-legged children. She started out in the veterinarian field after getting an A.A. degree at Northwest Florida State College. With extensive on the job training at two different clinics, she worked her way up from a kennel tech position to assisting in appointments and surgeries. Then, life threw her a curveball and she ended up in the restaurant industry, which provided many life lessons, customer service experience as well as management training and experience. After nearly 5 years of being away from animal care, she felt like it was time to reunite with her original passion. Finding forever homes for animals in need has been the most rewarding & fulfilling part of her life thus far.
Carol Keiser – Adoptions Counselor
Carol grew up in South FL, spent 30 years living in the Atlanta area and then moved to Tallahassee in 2000. Carol & Jay fell in love with the Emerald Coast, and purchased their forever home in Santa Rosa Beach. She and her husband, Jay, have three daughters, five grandchildren, and 5 fur kids. In August 2014, they brought a donation of horse buckets, tack, and linens to Alaqua. This visit was the beginning of Carol's love affair and commitment to the refuge.
Carol created a "Bucket List" years ago and two things on her list included to swim with the dolphins (which she did in 2008), and to visit Best Friends Animal Sanctuary in Utah. It wasn't long after Carol started volunteering at Alaqua that she realized that she did not have to travel across the country to experience great people and to help animals in a safe and loving environment. She is happy to say that the items on her "Bucket List" have all been checked off and that she isn't planning on "checking out" any time soon!
Dawn Hyma – Administrative Assistant
Dawn recently moved to Florida last year in November. She and her family escaped the cold in Illinois for the more favorable weather here in the panhandle. She and her husband Jeff and two children Phillip, 17 and Danielle, 13 live in Freeport along with their dog Reagan and cat Sherman. This past February she started volunteering with Alaqua walking the dogs. After a few weeks of looking for a job she saw our post looking for an administrative assistant and applied for the job. While that position wasn't quite a fit we did offer her a position working on our adoption team. Dawn has a long job history working in doctor's offices and other admin positions and has a strong background in customer service.
Beth Osborne – Administrative Assistant
Beth recently moved back to Niceville with her cat Yeti from Tempe, Arizona where she received a graduate degree in social psychology from Arizona State University. As an Air Force brat, she grew up around traveling the world but has considered Niceville 'home' since her parents settled there in 2003. Beth has always had a love for all animals, big and small, and as soon as she found out about Alaqua she knew she had to volunteer there. After a few weeks of volunteering in the Alaqua office an administration assistant position opened up and Beth jumped at the opportunity. She has had several years of administrative experience working in various office settings. Beth absolutely loves her job and working with all of the amazing people and wonderful animals here at Alaqua!