Wildlife Rehabilitation Center
Rehabilitation for Sick, Injured, or Orphaned Native Florida Wildlife
The Alaqua Animal Refuge Wildlife Rehabilitation Center is a state and federally permitted facility, providing a much-needed resource for rescue, rehabilitation, and release of sick, injured, and orphaned native Florida wildlife. Located on five acres within Alaqua's original Whitfield Road property in Freeport (FL), the Center will give second chances to wildlife in need so they may be released back into their natural habitat.
Through these actions and awareness through education, Alaqua hopes to inspire appreciation for environmental conservation and promote the maximum potential for harmonious co-inhabitance between all that share this planet.
ACCEPTED ANIMALS
The Alaqua Wildlife Rehabilitation Center welcomes animals of all types including shore birds, seabirds, birds of prey, mammals, marsupials, and reptiles; and accepts animals from surrounding counties including Walton, Okaloosa, Bay, Holmes, Washington, Jackson, Calhoun, Gulf, Gadsden, Liberty, and Franklin.
Alaqua does not offer removal services for nuisance situations, but our staff will be happy to help guide you on how to mitigate the issue towards a safe resolution for both you and the animal(s) involved.
The Alaqua Wildlife Rehabilitation Center does not treat or intake domestic, exotic, or livestock species. Please call Alaqua's main number at (850) 880-6399 with inquiries regarding these types of animals.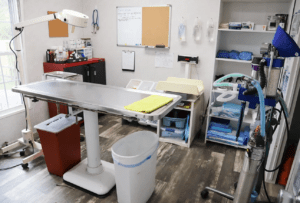 THE FACILITY
The Facility includes a fully functional wildlife clinic with surgical suite, triage area, ICU for critical animals, a detached avian nursery, and a mammal nursery with rabies vector species quadrant to provide specialized care for orphaned babies in a contained environment.
Additional outdoor habitats including a brand-new flight cage have also been constructed on the wooded property to provide an environment free from common urban stressors. This will allow the rehabilitation process to happen in a setting that is closely similar to being back in nature.
Rehabilitation specialists work with standard laboratory equipment on-site, including a digital radiograph machine. The specialists are highly skilled and focused on wildlife; however, Alaqua's staff of veterinarians can also be called upon and utilized as needed.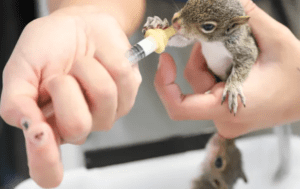 LONG-TERM VISION
Alaqua's long-term vision is to create a wildlife sanctuary on 40 acres at their new property to provide a refuge for injured wildlife animals that are unable to be released back into their native environment. This sanctuary will also contain a rehabilitation area and will allow visitors to connect with these animals in a natural setting allowing guests to learn about various species, how to co-exist with them, and how they can protect them for future generations.
SUPPORT OUR WILDLIFE SERVICES
As with all of its facilities and services, Alaqua operates solely on funds that are raised through private donations and fundraising. Currently, the non-profit organization does not receive any state or federal funding for these types of community programs and services.
Please consider donating to the Alaqua Wildlife Rehabilitation Center. You will be helping to give second chances to our important wildlife in need.

Permits were issued by the Florida Fish and Wildlife Conservation Commission (FWC) and the U.S. Fish and Wildlife Service (USFWS).