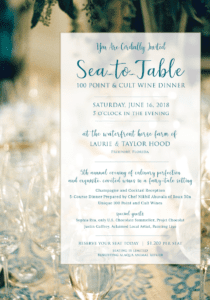 Our 5th Annual 100 Point and Cult Wine Dinner will be held Saturday, June 16, 2018 at 5 o'clock in the evening at the waterfront horse farm of Laurie and Taylor Hood. The "Sea to Table" evening features a 5-course dinner prepared by Chef Nikhil Abuvala of Roux 30a, paired with unique 100 Point and Cult wines.
Cocktail Reception
This year's Cocktail Reception will be held in the Alaqua Barn, complete with champagne, specialty cocktails, nibbles, and live music. Experience first-hand animal encounters with some of Alaqua's amazing pets.
Four Course Dinner
Prepared by Chef Nikhil Abuvala of Roux 30A
Your dinner experience begins in a beautiful tent on the grounds of the Hood's waterfront horse farm on Alaqua Bayou. Chef and Owner Nikhil Abuvala of Roux 30A will meticulously prepare a delectable four-course dinner fresh from the sea to your table.
Dessert with Chocolate Sommelier Sophia Rea
We are excited to also announce our dessert course will be presented by the United States' only chocolate sommelier, Sophia Rea of Projet Chocolat. A former chef to entertainers and celebrities, Sophia will join us to celebrate the pleasure of tasting chocolate, rather than merely eating it.
The Wines!
You will be wowed by this amazing collection of stellar wines we have to accompany your dinner and dessert courses.

•  Guigal La Doriane Condrieu 2015 (99 Point)
•  Brunello di Montalcino Riserva "Lucere" 2012 (98 Point)
•  Kapscándy Estate Cuvee Yountville, State Lane Vineyard 2014 (100 Point)
•  Château Pontet~Canet Pauillac 2010 (100 Point)
•  Chateau d'Yquem Sauternes 2014 (99 Point)

Justin Gaffrey Paints Live
We are so lucky to have renowned local artist Justin Gaffrey create a painting live during our dinner. It will also be auctioned at the end of the evening! Seeing Justin paint is a must, and taking home one of his original paintings will be a life-long art treasure. 
Special Thanks to our Evening Sponsors
Chef Nikhil Abuvala, Roux 30a  •  Florals by the Sea
The Jewel •  Luxury Estate Auctions
Emerald Coast Luxury Transportation • Dixie RV
Craft Bar/Chan's Wine World • McNeese Distributing
Luxury Estate Auctions • Destin Ice Market 30A