Visit Alaqua Animal Refuge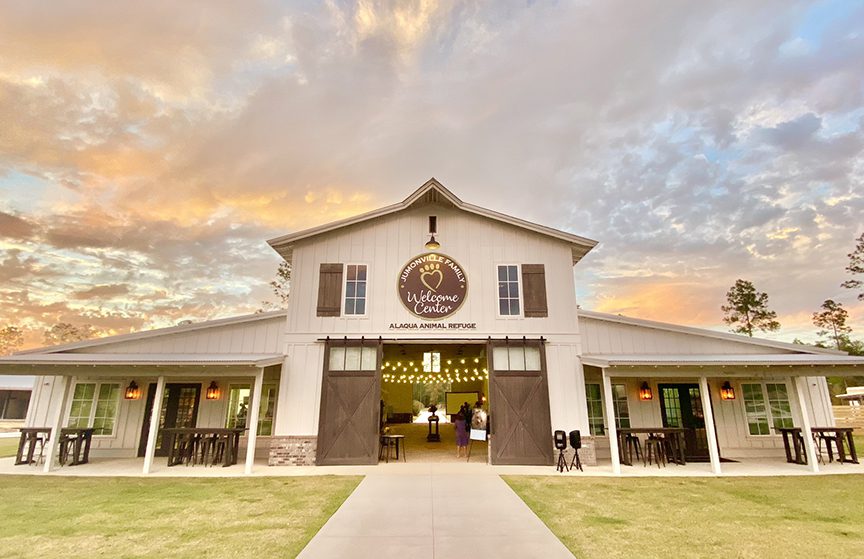 We invite you to visit us at Alaqua—a place where dreams come true, not only for the animals at our facility but also for all people who are dedicated to its mission.
Alaqua Animal Refuge is a place of healing, where animals who have been victims of abuse and neglect come to mend their broken bodies and spirits. At our Refuge, these animals will find solitude and loving hands to care for them. It is a place where school children can come out and call each animal by their name, and they leave with a desire to be a voice for the animals at our facility.
For the animals who pass through our gates, Alaqua Animal Refuge becomes what can only be described as "Heaven on Earth." A place to call home, loving hands to care for them, and a hope for a better future – those are all things that we provide for each animal that comes to our refuge.
Self Guided Tours
We are open to the general public daily Tuesday through Sunday, except on major holidays.
We are open from 11 am to 4 pm.
Our facility is mostly outside, so comfortable shoes are recommended for walking around the property.
The Refuge will be closed during rain or lightening due to safety precautions for our staff and animals. We appreciate your understanding.
Alaqua is open year-round and allows guests to wander around our refuge and sanctuary, at their leisure.  At any given time, we have over 350 animals on our picturesque 100-acre property, including dogs, cats, horses, birds, donkeys, goats, sheep, pigs, cows, bunnies, ducks, chickens, and even emus!
Individuals, families, and groups are all welcome to visit and learn what makes Alaqua such a special place—for animals and people.
There is always plenty to see at Alaqua!
During your visit, you will see animals available for adoption, as well our sanctuary animals. You'll also get a better understanding of what we do here, from rescue to rehabilitation to adoption. You will also learn about our programs including Equine Interactions and our children's education programs (offered to youth/school groups) that teach kids to respect life in all forms.
You can visit our cats and kittens that spend their days roaming freely in their 'loft apartments,' fully equipped with fans and air conditioning.  Our dogs and puppies enjoy their own private enclosures, complete with a spacious outdoor runs where they can be found enthusiastically greeting staff and visitors.  Don't forget to say hello to our resident pigs and other farm animals in our care, as well as visit our equine center and our horses.
Tour Groups
Community, youth, school and other organizational groups are welcome to schedule a special tour of our facility.
Please contact us to make an appointment so we can make sure we can accommodate you.
To schedule a tour, please email

[email protected]

or call us at (850) 880-6399.
Location:  155 Dugas Way, Freeport, FL 32439
Phone Number:  (850) 880-6399
ADOPTIONS:
To see all the animals in our care and apply for adoption, click here.
FOSTERING:
If you are not currently a foster volunteer, it's the perfect time to start. Take advantage of being at home and foster one of the amazing animals at the Alaqua. All supplies, food, and medical is provided and opportunities include puppies and kittens, adult dogs and cats, and senior pets who would love a sofa to crash on. You can fill out an application by clicking here.
DONATE:
Finally, we urge our supporters to make a donation to the Refuge during this time if you can. Our services are needed even more than ever right now, as we have become the go-to organization to help animals, and their families, in Northwest Florida. The animals need our help. Click here to donate.