Volunteer at Alaqua Animal Refuge
Already a volunteer? Login Now.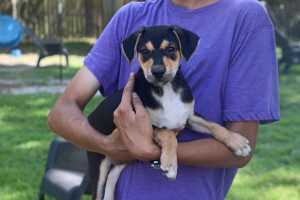 Alaqua Animal Refuge cannot survive without the support of our community and the volunteers that give their love and care to our facility every single day. Our Refuge relies on volunteer work and donations made by the big-hearted people that support us to save lives. We have opportunities for anyone who is willing to donate their time to helping us, from working closely with the animals to answering phones in the office. We appreciate any amount of time given to helping our organization run smoothly.
Why You Should Volunteer
For anyone with a passion for animals, volunteering at Alaqua is a truly rewarding experience. After all, that is what we were founded upon: a passion for helping animals in need. We animal lovers are a special breed of human beings, to whom something as simple as taking a dog on their daily walk, or spending time in the pasture with our horses, brings deep fulfillment and joy. Our volunteers look forward to the time that they get to spend with Alaqua animals and are passionate about providing the highest quality of care that help these animals to find their forever home.
Working with animals isn't the only way that you can help us. Perhaps you'd like to welcome visitors to the Refuge and give them a tour. Maybe you'd like to work alongside staff, cleaning and sanitizing kennels, outside runs and pastures. Another way to volunteer is to lend a hand at fundraising events throughout the year, interacting with the public and energizing them about our mission.
How to Become a Volunteer
At Alaqua, we set high standards for both our staff and volunteers. We pride ourselves in being a home to one of the largest non-profit organization volunteer bases along the Emerald Coast. We seek out compassionate individuals that are live the Alaqua mission. The first step to becoming a volunteer is to fill out the application below. A separate application and contact email is required for each volunteer applicant. The second step to becoming an Alaqua volunteer is attending our on-site New Volunteer Orientation.
Minor Policy
Due to the nature of our work, you must be at least 12 years or older to volunteer with us. If you are 12-15 years old, please have your parent/guardian submit an application and attend orientation with you. They are required to work alongside you during your volunteer shifts.  If you are 16-17 years old, you can volunteer without parent/guardian supervision. Your parent/guardian is required to sign your liability waiver prior to your first volunteer shift.
Younger children are invited to join the Young Rescuers' Club! Young Rescuers Club provides helpful crafts and animal engagement for 8 to 14 year olds.
Fill out the form below and our volunteer coordinator will contact you within 3-5 business days. You can also email [email protected] or call (850) 880-6399 for more information.
https://www.volgistics.com/ex2/vicnet.dll?FROM=145179